There are many ways to define Crisis Communications, including:
"a sub-specialty of the public relations profession…." – Wikipedia
"…the technologies, systems, and protocols that enable an organization to effectively communicate during an emergency situation." – Rock Dove Solutions
"The effort taken by a company to communicate with the public…. when an unexpected event occurs that could have a negative impact on the company's reputation." – Business Dictionary
For community-serving agencies, it's important to connect the dots between the outputs of crisis communications work (e.g., messages) and an agency's purpose and mission (e.g., to serve the community, to help individuals live their best lives, etc.). With that in mind, we have created two additional definitions of Crisis Communications:
Mission-focused messaging and dialog with vital stakeholders during a crisis.
Informing your community with mission-focused messages that inspire confidence and comfort in times of crisis.
Create a Crisis Communications Plan or Framework
Creating a crisis communications plan, framework, checklist, or go-to written resource is an important step in strengthening crisis communications capabilities. When a crisis is swirling around you, the ability to turn to a plan that was written in advance of the chaos will be comforting!
There is no single approach or format for an effective crisis communications plan, framework, or resource document. Each agency must decide what it wants to include and what isn't necessary based on the plan's intended use. Before you begin gathering information, it's helpful to reflect on how you hope to use the resource you will be creating. For example:
A checklist we will follow to ensure that all communications in a crisis are thoughtful, clear, and sent to appropriate stakeholder groups in a timely fashion
Inspiration for message development and delivery
A step-by-step roadmap that shows what we will do, what we will say, and who we will say it to
Keep in mind that your choice regarding the intent and purpose of the plan will guide its structure. A plan intended to offer step-by-step instructions is likely to be longer and contain greater detail than a plan that features reminders and dos and don'ts.
As you get started organizing your thoughts and materials, reflect on the value of including some of the following information in your plan:
Who is authorized to speak on the agency's behalf, including whether there is a backup spokesperson
The process or approach for approving or consenting to media interviews (e.g., staff member X confirms the identity of the journalist and the proposed scope of the interview, staff member Y works with the spokesperson to create talking points for the interview)
Who needs to be kept apprised about media requests and scheduled and completed interviews (e.g., the Director of Communications keeps a log of all media interactions, including interviews, requests for commentary, etc.)
Contact information for local and regional media outlets that the agency may want to reach out to proactively during a crisis
Materials and resources that need to be produced to support effective crisis communications (e.g., text for staff alerts, draft press releases, short statements describing the history and mission of the agency)
A crisis directory of contact information (office, home, and mobile numbers; email addresses; secondary points of contact) that will be used to reach key internal stakeholders quickly
Contact information for external stakeholders that the agency might call on in a crisis (e.g., crisis communications agency, legal counsel, insurance advisor, etc.).
Envision Crisis Communications Opportunities
An important part of planning to deliver mission-focused messages that comfort and inspire is reflecting on the various methods, formats, and environments to communicate. In many instances, your team will be able to decide how it will communicate with stakeholders. In rare cases, the immediate opportunity will be an on-camera interview with a journalist.
Examples of the types of communications opportunities available include:
Presentations using talking points
Scripted presentations
Social media posts
Short video messages
Text, email, and calls using a technology tool
Live "town hall" meetings (in-person and/or virtual)
Media interview (in-person, by video, or by telephone)
Reflect on your agency's preferences for messaging by considering the following questions:
What delivery method platform or approach is likely to be the most efficient and effective way to get critical messages to our staff? To clients? To external stakeholders?
What delivery method, platform, or approach is appropriate for delivering sensitive information or messages that are nuanced?
Create a matrix showing your team's preferred method based on the circumstances or conditions you're facing during a crisis. For example: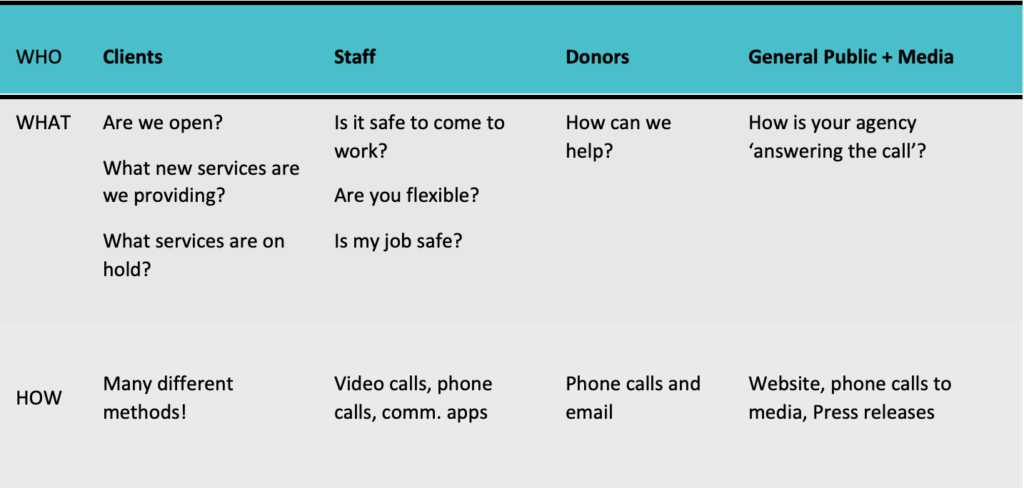 WHAT
Clients – Are we open?
Staff – Is it save to come to work?
Donors – How can we help?
General Public + Media – How is your agency 'answering the call'?
Clients – What new services are we providing?
Staff – Are you flexible?
Clients – What services are on hold?
Staff – Is my job safe?
HOW
Clients – Many different methods
Staff – Video calls, phone calls, communication applications
Donors – Phone calls and email
General Publics + Media – Website, phone calls to media, press releases
Create a Portfolio of Template Messages
The worst time to write a sensitive speech, talking points, or message to stakeholders is in the middle of a crisis! Your agency's resilience will get a boost by creating a portfolio of messages that can be tweaked when the crisis happens. For example:
Short text alerts about our operating status suitable for distribution to staff using our communications app (use of acronyms and widely understood abbreviations is OK)
Press release announcing a change in leaders (e.g., departure of ED and appointment of a temporary leader)
Talking points our spokesperson can use in a media interview about a crisis event (e.g., allegations of abuse by a staff member, death of a client, a lawsuit alleging negligence, destruction of one of our facilities by fire or other cause, etc.)
PowerPoint with information to be shared during a Town Hall Meeting (e.g., explaining a change in direction, elimination of an office or program, etc.)
As you develop your portfolio of messages, consider the underlying purpose of each communication. Peter M. Sandman, Ph.D., and Jody Lanard, M.D. describe three common purposes for messages delivered during a crisis:
Precaution advocacy – This style of messaging offers a warning, such as "Be careful! Do not click on any suspicious links in emails! If it seems suspicious, it IS suspicious." The primary purpose of a 'precaution advocacy' message is to raise the alarm about serious hazards. These messages should be straightforward and sent rarely. Sending too many precaution advocacy messages dulls the impact. Use these sparingly.
Outrage management – This style of messaging urges recipients to be alert and calm. It is suitable in situations where events, circumstances, or news are expected to elicit anger, outrage, or discontent. For example, "The Board is understandably concerned about the recent allegations of misconduct by members of the management team. The Board has engaged a consulting team to thoughtfully and thoroughly investigate the allegations and encourages the sharing of any information that could be useful in undertaking the investigation. Employees who share information are protected under our anti-retaliation policy. To share information or schedule a conversation about your concerns, please contact Marina Smith at XXX-XXX-XXX."
Crisis communication – The third style of messaging described by Sandman and Lenard offers encouragement and support. It aims to guide stakeholders through and during crises when they are upset, confused, worried, and stressed. For example: "The Board understands that the staff team is upset and saddened by the tragic accident that occurred at our Community House yesterday. We want to provide support to all team members and recognize that each of us may be processing the event in various ways. We have retained two well-respected counselors who are available for telehealth visits during the next few months, and our flexible leave policy is in effect if you need to take time off."
Watch Your Communication "Ps and Qs"
The phrase "Mind Your Ps and Qs" is an English expression meaning 'be on your best behavior' or 'watch what you're doing.' Developing templates that you can adapt and use during a crisis will save your team precious time and unproductive worry during a true emergency. Having a portfolio of messages at the ready will keep you from staring at a blank screen or piece of paper when a crisis lands on your doorstep. Regardless of whether you're adapting a template or writing an entirely new message, keep these 'Ps and Qs' dos in mind as you craft and deliver critical communications during a crisis.
Be honest about what you know and what you don't know. It's human nature to want to answer questions from stakeholders, especially supported individuals, their families, and your employees. These people—who are critical to mission success—are likely to be fearful, worried, and hungry for information. Do your best to be truthful and transparent about what you know about the crisis at hand. But don't make the mistake of speculating when information or outcomes are uncertain.For example, instead of saying, "We are projecting a deficit for next year. So, it's possible we will have to cut positions," say, "We are projecting a deficit of $1 Million next year. The Board and Executive Team are working hard to close that gap by exploring new revenue generation strategies and cost-cutting measures. We view staff cuts as an absolute last resort for expense savings."
Be ready to welcome questions. Two-way communication is essential to inspiring confidence and support during a crisis. No one likes to be 'talked at,' and when you cut-off the opportunity to ask questions, you run the risk of increasing worry. To prepare for questions from an audience, brainstorm with a trusted colleague or two. Run through your talking points and ask them to play the role of a key stakeholder—such as a supported individual, a staff member, or journalist—and pose questions.Also, consider whether it makes sense to pose questions to the audience. For example, after explaining plans to adapt safety protocols in the wake of an incident, consider asking, "What do you need to feel safe during this time?" or "What steps would increase your confidence that this is a safe place to live and work?"
Make it clear when help or input is needed and valued. In some instances, crisis communication messages are intended to be 'one-way' messages. For example: "Please wash your hands!" or "Don't click on links in suspicious emails!" But in other cases, your team needs and wants feedback and input from message recipients. Structure and word your messages in a way that makes the call for help clear.For example: "We're working to identify cost-savings measures that won't necessitate any staffing changes. We encourage all work teams to meet and brainstorm to identify cost-cutting steps that won't endanger or short-cut services to clients and supported individuals. Please share your ideas with Marina. Don't worry that your idea isn't fully fleshed out; we can help!" or "In the wake of the recent incident in Building 1, we're executing a new policy that requires keycard access to all buildings, designed to keep our clients and team members safe. We need your support AND your input! Please reach out to Leslie to share any concerns you have about the implications of this policy, generally or specifically. We will tweak the policy as we go to ensure that it truly suits and supports our mission!"
Include information about your agency as well as the crisis in external messages. Information about your agency should begin with your mission and continue with a key value related to the crisis. But if your official mission and values statements are wordy and unwieldy, develop shorter versions suitable for mass communication. For the following example, we're assuming that a safety-related incident is the current crisis. Here's one way to describe a mission and safety focus succinctly. "Our mission is to help individuals live their best lives. The safety of the people who receive and provide services is our #1 priority."External messages delivered during a crisis should generally include information about the situation at hand. This information might cover what is happening or has happened, what you're doing in response, and additional information that might help the audience. For example: "Yesterday at Care House, a client suffered a fatal injury while participating in a group activity. We have expressed our deep sadness about the loss of a long-time, beloved client to the client's family. All similar group activities at our homes and programs have been suspended for 30 days while we conduct a thorough review to understand what happened. We have informed our supported individuals and their families about this development and have encouraged them to share any insights, information, or ideas about increasing safety. Just as soon as we have completed our review, we will be sharing our insights and takeaways with our clients and the wider community."
Remember 'who, what, and how.' Preparing to communicate during a crisis requires anticipating the needs and wants of various stakeholders. Using a 'who, what, and how' framework can help make sure you've got your bases covered. Who needs to hear from you? What do they need to hear and know? What will you say? How will you reach your audiences? Consider developing a simple chart to ensure you don't have a dangerous gap in your communications plan!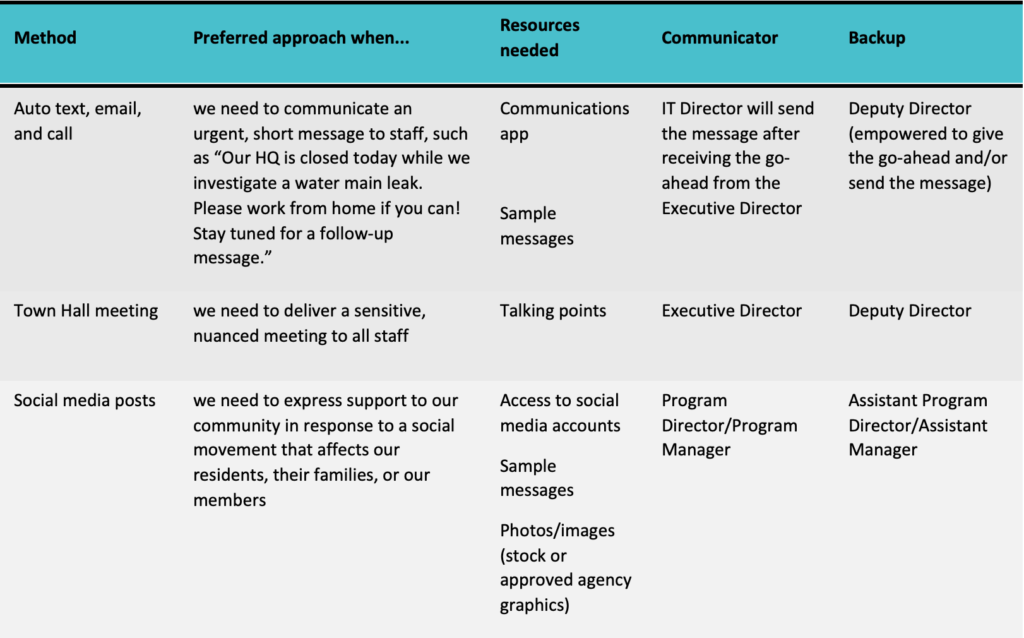 Auto text, email, and call – Preferred when we need to communication an urgent, short, message to staff, such as "Our HQ is closed today while we investigate a water main lead. Please work from home if you can. Stay tuned for a follow-up message." Resources needed include communications applications and sample messages delivered by the IT Director after received the go-ahead from the Executive Director. The Deputy Director (empowered to give the go-ahead and/or send the message.)
Town Hall meeting – Preferred when we need to deliver a sensitive, nuanced meeting to all staff. Talking points are resources needed and can be delivered by the Executive Director or the Deputy Director as a back up.
Social media posts – Preferred when we need to express support to our community in response to a social movement that affects our residents, their families, or our members. Resources needed include access to social media accounts, sample messages, and photos/images (stock or approved agency graphics) delivered by the Program Director/Program Manager or the Assistant Program Director/Assistance Manager as a back up.
How your team responds in a crisis might be a defining moment for your agency. Emergencies, unexpected stressful situations, and sudden tragedies rarely leave time for agency spokespeople to establish composure and collect thoughts. Therefore, spending time on crisis communication planning allows leaders to be better poised to deliver timely, accurate, and mission-focused messaging that inspire confidence and comfort when it's needed most. Your agency's communications during a crisis are a direct connection to internal and external stakeholders. By maintaining this open connection with relevant messaging, you simultaneously bolster support for your mission and your community.
Crisis Communications Resources
"A Leader's Guide: Communicating with Stakeholders and Communities During COVID-19," https://www.mckinsey.com/business-functions/organization/our-insights/a-leaders-guide-communicating-with-teams-stakeholders-and-communities-during-covid-19
"Internal Crisis Communications: The Inside Track,"
https://nonprofitrisk.org/resources/e-news/the-inside-track-internal-crisis-communications/
"Engage Supporters Talking About #YourCrisis,"
https://www.nten.org/article/engage-supporters-talking-about-yourcrisis/
By Melanie Lockwood Herman and Whitney Thomey